Have you ever heard the quote, "Never bring a knife to a gunfight?" I think that as a Christian this should be one of our mottos.
The last several days I have been under attack, and I know that I am not the only one. It feels like the devil is so quick to pounce. I have been feeling down, been agitated, and have been emotional. I have felt disconnected from my family and my friends. I have been bombarded by the lies.
Living in a society that is so set on political correctness and personal rights has left us with a misunderstanding of spiritual warfare. Guerrilla warfare is not included in our understanding of the rules. Why do we assume that Satan fights by our rules? Why do we assume that he won't kick us while we are down? Why do we assume that he won't attack our families? I think that these assumptions come from living in a country such as ours. The same assumptions are made of God. We often forget His great power and authority. We often think that God needs us, when it is the other way around. We often blame God when we are wounded during the war, but we ignore His instructions on how to protect ourselves. Can we blame the car company if we get hurt in a crash when we choose to not put on our seat belt?
If we bring a knife to a gunfight we can insure that we will get hurt. We won't be prepared to protect ourselves. The spiritual war is so much more dangerous that a gunfight. The devil does not and will not fight by our rules.
Ephesians 6:10-18 "Finally, be strong in the Lord and in his mighty power. Put on the full armor of God, so that you can take your stand against the devil's schemes.
For our struggle is not against flesh and blood, but against the rulers, against the authorities, against the powers of this dark world and against the spiritual forces of evil in the heavenly realms.
Therefore put on the full armor of God, so that when the day of evil comes, you may be able to stand your ground, and after you have done everything, to stand.
Stand firm then, with the
belt of truth
buckled around your waist, with the
breastplate of righteousness
in place,
and with your
feet fitted with the readiness
that comes from the gospel of peace.
In addition to all this, take up the
shield of faith
, with which you can extinguish all the flaming arrows of the evil one.
Take the
helmet of salvation
and the
sword of the Spirit
, which is the word of God.
And
pray
in the Spirit on all occasions with all kinds of prayers and requests. With this in mind, be alert and always keep on praying for all the Lord's people."
For all those that know me should know that I am not a big sports fan, but for the first time I am going to use a sports analogy. Think about a football player. How would he play if he didn't wear his protective gear? How would he play if he didn't consult his coach? How would he play if he wasn't ready to play? How well would he play if he didn't didn't work with his team mates? How well would he play if he didn't know there was even a game?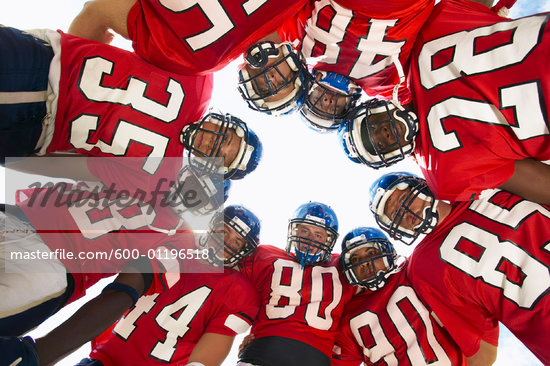 Are you under attack? What should you do to fight back?
The first step is to recognize and understand the spiritual warfare that is happening around us.
The second step is to communicate with God. Pray.
The third step is to put your armor on. Make sure you have the full armor on. The best way to fight lies is with the truth.
The final step is to be around other Christians. Satan loves to divide and conquer. Often that can be why it feels better at the time to hide and isolate ourselves. It is important that we push ourselves to be honest and open with each other. We can not fight on our own.
Do you need prayer for anything? How do you fight against the enemy?